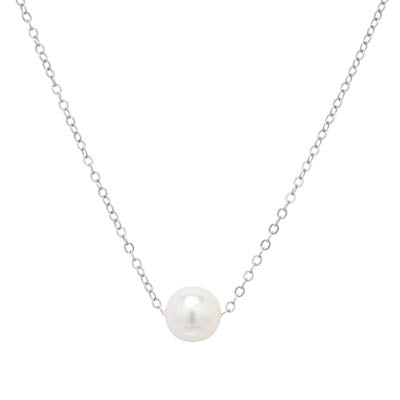 Princesse Add Pearls Necklace in 14kt White Gold (7mm Pearl)
Build a unique necklace as you create your own strand of pearls with this cultured freshwater pearl necklace. Different sizes of pearls can be added to create a look all your own. You'll look and feel refined when you wear this gorgeous necklace.
- June's birthstone - Pearl measures 7mm - Necklace is constructed of fine quality 14 karat white gold for a lifetime of wear - Measures 18 inches in length- Day's lifetime warranty against defects in materials and workmanship - Free cleaning and inspection at Day's for the life of this necklace - Finest quality Japanese akoya pearls to last for generations-
Shipping Information
-
Return Information
Gender: Womens
Length:
Width:
Metal Type: White Gold
Karat: 14
Stone Type: Pearl
Stone Number:
Treatment: NAT
Stone Shape: Round
Color:
Clarity:
Stone 2 Type:
Stone 2 Number:
Treatment 2:
Stone 2 Shape:
Stone 3 Type:
Stone 3 Number:
Stone 3 Treatment:
Stone 3 Shape:
Dial Color:
Strap Color:
Display Type:
Crystal Type:
Band Material:
Movement:
Case Depth Rating:
Watch Metal Type:
Case Size (mm):
Case Shape:
Watch Serial No.:
Watch Certificate No.:
Manufacture Date:
Complimentary Ground Shipping on orders over $100.

Complimentary Next Day Shipping on orders over $1000.

Pre-Owned Luxury Handbags and Pre-Owned Rolex watches are not available for online purchase or shipping due to the nature of the product.

All orders are shipped fully insured; orders over $500 will require an adult signature at time of delivery.

If you have any questions or concerns about your order, please contact Customer Care or call 800-439-3297

Your order ships same day* if it is placed before 2pm EST, Monday through Friday.
*Orders excluded from our same day shipping policy include customized merchandise, special orders, ring sizings, etc.
View our full shipping & order information.
Merchandise that has not been altered, engraved, or customized* may be returned or exchanged within 30 days of purchase. Merchandise must be in its original condition and accompanied by a valid receipt. Refunds will be applied to the original payment method.

*Exclusions to our 30-day return policy include rings that have been sized in-house or special ordered, mother's rings and family pendants that have been customized with sizes or gemstones, engraved items, luxury handbags (available in-store only), custom jewelry, and jewelry and gifts that are not in their original condition.

Your jewelry purchase from Day's Jewelers is warranted for a lifetime against defects in materials and craftsmanship, with bi-annual inspections. View our full returns & warranty information.