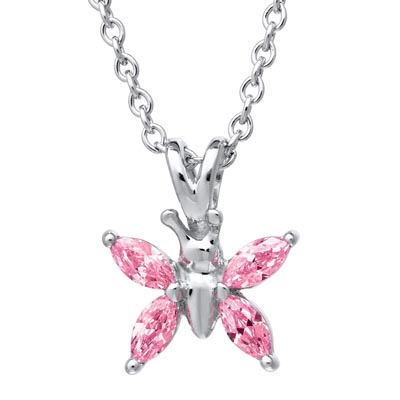 Children Pink Butterfly Necklace in Sterling Silver
Sparkling with the promise of a future that reaches horizons, this children's butterfly necklace is the perfect way to symbolize the wonderful things your child will do. Help them spread their wings with this pink butterfly necklace!
-Necklace crafted of luxurious sterling silver for a long lasting wear
-Chain measures 15" long
-Enjoy free cleaning and inspection at any Day's location for life of this butterfly necklace
Discover the story of sterling
Gender: Children
Length:
Width:
Metal Type: Sterling Silver
Karat:
Stone Type:
Stone Number:
Treatment:
Stone Shape:
Color:
Clarity:
Stone 2 Type:
Stone 2 Number:
Treatment 2:
Stone 2 Shape:
Stone 3 Type:
Stone 3 Number:
Stone 3 Treatment:
Stone 3 Shape:
Dial Color:
Strap Color:
Display Type:
Crystal Type:
Band Material:
Movement:
Case Depth Rating:
Watch Metal Type:
Case Size (mm):
Case Shape:
Watch Serial No.:
Watch Certificate No.:
Manufacture Date:
Complimentary Ground Shipping on orders over $100.

Complimentary Next Day Shipping on orders over $1000.

Pre-Owned Luxury Handbags and Pre-Owned Rolex watches are not available for online purchase or shipping due to the nature of the product.

All orders are shipped fully insured; orders over $500 will require an adult signature at time of delivery.

If you have any questions or concerns about your order, please contact Customer Care or call 800-439-3297

Your order ships same day* if it is placed before 2pm EST, Monday through Friday.
*Orders excluded from our same day shipping policy include customized merchandise, special orders, ring sizings, etc.
View our full shipping & order information.
Merchandise that has not been altered, engraved, or customized* may be returned or exchanged within 30 days of purchase. Merchandise must be in its original condition and accompanied by a valid receipt. Refunds will be applied to the original payment method.

*Exclusions to our 30-day return policy include rings that have been sized in-house or special ordered, mother's rings and family pendants that have been customized with sizes or gemstones, engraved items, luxury handbags (available in-store only), custom jewelry, and jewelry and gifts that are not in their original condition.

Your jewelry purchase from Day's Jewelers is warranted for a lifetime against defects in materials and craftsmanship, with bi-annual inspections. View our full returns & warranty information.